US News is probably the most popular source out there for college rankings. While US News rankings of colleges purport to be highly accurate, they can be misleading in certain important respects. If you make decisions based purely on the US News college rankings, you might end up being miserable.
In this article, I'll go over why you shouldn't make judgments about colleges solely based on their rankings in US News.
What Types of Rankings Does US News Provide?
US News divides its college rankings into four different categories. The categories are based on the 2018 Basic Classification system developed by the Carnegie Foundation for the Advancement of Teaching. This system has 12 categories of schools, but US News condenses them into four. These include:
National Universities
These are schools that offer master's and doctoral degrees along with a full range of undergraduate majors. This category contains "research universities", where there is a strong emphasis on research and government subsidies are often provided for research endeavors. There are 392 universities that fall into this category, including 179 public schools, 176 private schools, and 4 for-profit schools.
National Liberal Arts Colleges
These are colleges that emphasize undergraduate education and give out at least half of their degrees in liberal arts disciplines including languages and literature, biology and life sciences, philosophy, cultural studies, and psychology. There are 223 of these colleges: 199 private, 24 public, and zero for-profit.
Regional Universities
These colleges are similar to National Universities in that they offer both a full range of undergraduate majors and master's programs. However, they offer limited or nonexistent doctoral programs. There are 596 Regional Universities, including 245 public, 341 private, and 10 for-profit.
Regional Colleges
These are colleges that focus on undergraduate education but have less of a liberal arts emphasis (award less than half of their degrees in liberal arts disciplines). There are 371 regional colleges that include 170 public schools, 190 private schools, and 11 for-profit schools.
It's important to consider these categories because they should affect how you view the rankings. US News specifically states that you shouldn't compare the rankings of two colleges across two different categories; the schools are so different that making a direct comparison is not logical. You can compare the actual statistics (such as test scores, student retention, and average class size), but in terms of rank itself, a school that's ranked 40th in the National Universities category is not objectively "worse" than a school that's ranked 32nd in the National Liberal Arts Colleges category.
How Does US News Rank Colleges?
There is a strong methodology behind the ranking system that US News uses for colleges, and it changes often to adapt to changing conditions in higher education. Many factors are considered, and percentage weights are given to each component of the assessment.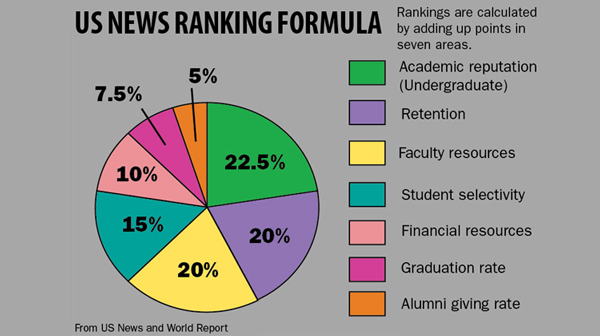 22% for graduation and retention rates

17.6% for average six-year graduation rate
4.4% for average first-year student retention rat

20% to undergraduate academic performance

This is based on a peer assessment survey

20% for faculty resources for the 2020-2021 academic year

8% for class size index
7% for faculty compensation
3% for percentage of faculty with terminal degree in their field
1% for percentage faculty that is full time
1% for student-faculty ratio

10% for financial resources per student
8% for graduation rate performance
7% for student selectivity for the Fall 2020 entering class

5% for SAT and ACT scores
2% (for national schools only) for high school class standing in top 10%
2% (for regional schools only) for high school class standing in top 25%

5% for graduate indebtedness

3% for graduate indebtedness total
2% for graduate indebtedness proportion with debt

5% for social mobility

2.5% for Pell Grant graduation rates
2.5% for Pell Grant graduation rate performance

3% for average alumni giving rate
US News publishes the numerical rank of the top 75% of schools in each of the four categories. Remaining schools are placed in the "second tier" of rankings where specific numerical ranking is not listed (they're just put in alphabetical order).
What's Not to Trust?
When I say you shouldn't trust the rankings, I don't mean that US News is deliberately misleading students. What I mean is that you shouldn't put ALL your trust in these rankings and disregard your other preferences about college.
You should also be aware of some shortcomings that may cause the rankings to exclude certain schools or rank colleges lower than they would be ranked on a list of "Best Colleges for You, Student Reading This Article". Here are some things you should know before consulting the US News rankings in your college search:
Schools Must Meet Their Criteria to Be Ranked
In fact, a total of 404 colleges are "unranked" within the four categories listed above. These schools may be unranked for a variety of reasons—these include:
Lack of regional accreditation
Fewer than 200 students enrolled
No six-year graduation rate of bachelor's degree students can be found
Not enough responses on the US News peer assessment survey
US News lists unranked schools, but they are put in alphabetical order at the end of each college category without any value judgment.This means that if you're interested in very small colleges or colleges that only loosely participate in the US News survey, the rankings may not help you much.
Also, the importance of standardized test scores in rankings have changed in the past year. At present, if the combined percentage of the fall 2021 entering class submitting test scores to a school was less than 50% of all new entrants, its combined SAT/ACT percentile distribution value used in the rankings was discounted by 15%. In previous editions of the US News Best Colleges list, the threshold was 75% of new entrants. The change was made to reflect the growth of test-optional policies through the 2019 calendar year and the fact that the coronavirus impacted the fall 2020 admission process at many schools.
Emphasis on Ultimate Results and Academic Rigor Over Quality of Student Life
On the website for US News, it states, "over time, the ranking model has put less emphasis on input measures of quality—which look at characteristics of the students, faculty and other resources going into the educational process—and more emphasis on output measures, which look at the results of the educational process, such as graduation and freshman retention rates."
There is no doubt that graduation rates are important, and they do say a lot about the quality of a college. However, they will tell you very little about whether a school is a nice place to spend four years, especially if the school is very academically rigorous and prestigious. Most students will graduate because they're very driven, but that doesn't tell you whether or not they enjoyed their time there.
The US News rankings are based on hard statistics and information gleaned from academic peer reviews about the quality of the school. While this is very useful in determining how favorably the school is viewed from the heights of the academic Ivory Tower, it isn't always the best metric for conducting your search process. Even though focusing on outcome does make sense to a certain degree, it also fails to fully evaluate the quality of the student experience. This can contribute to a somewhat harmful "ends justify the means" mindset that leads students to spend years in places where they are outwardly successful but inwardly unhappy.
Prestige Plays an Outsized Role
For many students, prestige remains an important factor in deciding whether to attend a college. It's hard to resist the allure of a school that will impress other people and potentially get you good jobs down the road based on its name recognition. This is the reason why prestige is considered so strongly by US News in its rankings (in the form of ratings from academic peer groups and guidance counselors). Of course, prestige correlates with selectivity in admissions and respect from the higher education community at large, so it does indicate some measure of academic quality.
However, measuring schools based on prestige can have the unfortunate consequence of discounting some up and coming colleges or colleges that may have a unique focus and be less well-known. Make sure you use other resources to research schools that have the criteria you're looking for—even if they're not ranked especially high, they may be a much better fit for your goals.Private Schools Always Rank Higher
In the US News rankings, private schools are always more highly ranked than public schools. This can be misleading, and shouldn't dissuade you from attending a public school! The reason this happens is because the ranking model US News uses is naturally kinder to private schools: they usually score higher on measures of selectivity, student retention rates, and small class sizes. Since public schools tend to be larger and less selective, they end up with lower rankings, but that means very little for high achieving students who choose to attend public schools.
Though the statistics are often less impressive than those of private schools, the public college experience may allow many students to thrive. For students who are willing to seek out resources, public schools are often good choices because of the amount of different programs and high-level research facilities they offer. Rankings also don't consider the diversity of social life at schools and the opportunities in the form of extracurricular activities.